CMR … continuing the legacy. 
The South's Super Cow-Man – article by Jim Woodrick
In 1959, a Senatobia, Mississippi, man was named "The South's Super Cow-Man" by a nationally-syndicated publication. Although the designation sounds like the subject of a "Far Side" cartoon, the recognition was well-deserved.
Born April 28, 1905, Maurice Paul Moore was named for his grandfather, who was a Confederate Veteran. The elder Moore joined Co. D, 18th Mississippi Cavalry at age sixteen and served throughout the Civil War. A "staunch Democrat" and a Baptist, he was "straight as an arrow, rode a black horse and carried a big black umbrella" until his death in 1936 at the age of 90. In 1877, Moore entered into the mercantile business in Senatobia in an existing firm established by James Tate Gabbert (right), a native of Oxford. The business, known appropriately as Gabbert and Moore, sold all of sorts of goods and livestock, including horses, mules, wagons and even sewing machines, all on credit to paid in monthly installments. Gabbert also established a cotton gin and a bank in Senatobia and even expanded the mercantile company to Grenada. Maurice Moore's only son was Edwin Earle Moore, born in 1881. After graduating from Union College in Jackson, Tennessee, E.E., as he was known, worked for a cotton firm in Memphis before moving back to Senatobia to work with his father at Gabbert and Moore. After both his father's death and James T. Gabbert's death, E.E. Moore ran the company with Gabbert's son, Meriwether W. Gabbert. Eventually, the business partnership ended and Moore ran the mercantile company on his own and renamed it (not surprisingly) the E.E. Moore & Co. He was still at the helm when he died in 1938 of pneumonia at age fifty seven.
  Edwin Earle Moore had three sons, one of whom was Maurice Paul. After graduating from Senatobia High School in 1922, M.P. Moore went to college at the University of Alabama, where he played baseball for the Crimson Tide. During his college career, Moore was known for his fastball and earned the nickname "Hot" because of it. As a pitcher for Alabama, he lost just one game in three years' time. After graduating in 1926, Moore played for a few years in the minor leagues. "Hot" Moore wasn't the only athlete in the family either. After lettering at Senatobia High School, Buchanan Moore played at Ole Miss. Tragically, he was killed in 1935 when his Chevrolet Coach left the highway west of Grenada and he was impaled on a bridge piling. He was just twenty five years old. One of "Hot" Moore's teammates at Alabama was Grant Gillis, who went on to play shortstop in the big leagues with the Washington Senators and with Boston after a stint with the Birmingham Barons. He also played football for the Crimson Tide, and was a halfback in the 1926 Rose Bowl (above) against the University of Washington. During the game, Gillis, weighing in at just 165 pounds, threw a fifty yard pass, intercepted a pass late in the game to end a scoring threat by the Huskies, and punted five times for an average of 40.8 yards per kick. It was at the 1926 Rose Bowl (played on New Year's Day in 1927) that Alabama's Crimson Tide players stepped off the train sporting luggage from Rosenberger's Birmingham Trunk Company with the company's red elephant logo on the tag. According to some, this was the origin of Alabama's elephant mascot (although the University cites a different story).
With his earnings from playing in the minor leagues, "Hot" Moore bought a 380-acre farm in Tate County in 1926 and started raising cattle instead of growing cotton. Moore felt that the South had relied too heavily on cotton and decided to use the land to produce cattle instead. To that end, he purchased his first cows and bulls in 1933 from nationally-known breeders out west. Then, in 1940, he spent a whopping $3,500 on a breeder cow (the same amount of money he earned playing baseball) in hopes of producing a champion herd on his own 'Circle M Ranch.' He would not be disappointed. With his prize bulls and breeder cows, Moore began building his own herd and by 1951 was recognized at Mississippi's Man of the Year in Agriculture. In 1959, Reader's Digest, with a circulation of nearly 20 million, proclaimed him "The South's Super Cow-Man" and featured him as one of the May 1959 cover stories. It would be one of many honors and awards he received in more than sixty-five years in the cattle business. In 1963, he set a world's record for an average price for cattle when he sold fifty Herefords for an average of $7,965 per head. Six years later, he was inducted in the American Polled Hereford Association Hall of Fame and served as president of the association three times. He was also elected a member of the Mississippi Cattlemen's Hall of Fame.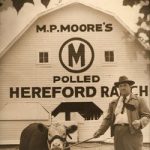 The 'Circle M Ranch' brand of cattle remains one of the best known in the world. Maurice Paul Moore started his cattle empire at age twenty-one. Building on a business foundation first established by his grandfather, "Hot" Moore (left) excelled in his chosen profession through hard work and determination. Along the way, he helped organize the Mississippi Farm Bureau Insurance Company, served two terms as director and board chairman of the Memphis Federal Reserve Bank and was on the board of the Baptist Memorial Hospital in Memphis for twenty years. "Hot" Moore died at his home in 1992 at age 86, leaving behind a proud legacy which continues today.
And that's no bull.